SHINING ELECTRICAL FACTORY SHOW

Zero to One :The story of the electric fan——SHINING ELECTRICAL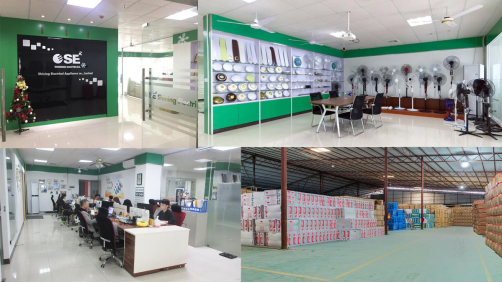 Company profile

Shining Electrical Appliance Co., Ltd., founded in 2008, is a professional electrical fan and spare parts manufacturer. We keep focusing on the R&D and sales of ventilation products.
We have more than 300 employees, and annual electrical fans output reaches 1.5 million pieces.
In order to control product quality better, Shining invests continuously in spare parts improvement and manufacturing, including motors, grill sets and base set etc.
From whole set product exportation to spare parts exportation, from selling products only to offering consultation on setting up production line, Shining always satisfied different needs of worldwide customers.
In the past 10 years, Shining has won good reputation by high quality products and warm service attitude.
Shining will keep exploring overseas market and making further progress, firmly committed to being a professional manufacturer and consultant of ventilation industry.
Company video:https://youtu.be/tXTf6yJXvTU
Independent production
——
FAN MOTOR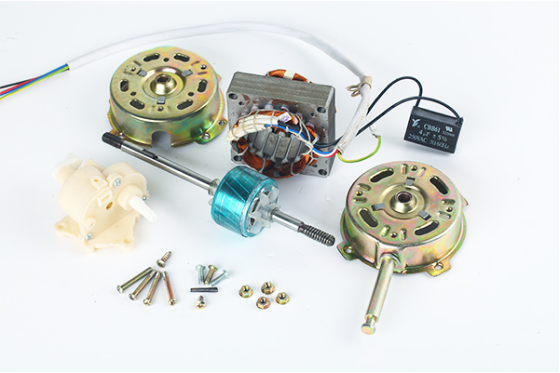 The motor is the core component of a fan. It serves as an irreplaceable function,a fan is good or bad depending on how well the motor works.
It will achieve the data and performance that our customers need.At this point, I would like to introduce our motor workshop to you.
Shining Electrical motor workshop is divided into winding department,lashing department and QC department, motor department, rotor production department and loading department.
There are about 100 people regularly.The daily production capacity is 10,000 to 12,000 units.
After the customer confirms the sample,we will start mass order production.
Motor workshop video:https://youtu.be/TKvmkeBzcTQ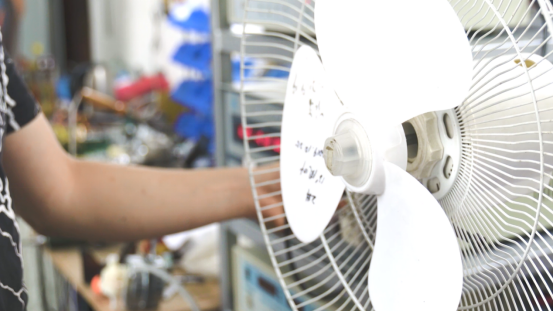 R&D
According to the blades provided by the customer, the R&D department tests and debugs acccording to the voltage, current and frequency of customer's local standard.
Also to compare the speed, the temperature rise, to make a motor sample after a period of testing.
Customer confirms the data and performance, we will seal the sample motor.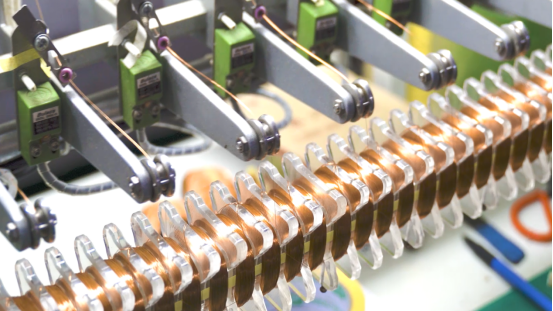 Winding
Definitely adopt the best enameled wire,we choose the best materials.
All winding ran by automatic equipment,the programs set by the experienced motor engineer.
On the basic of such automatic production,and high quality material selection,the motors we produce are of guaranteed quality.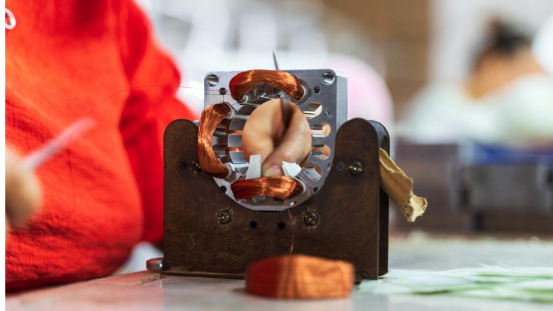 Stringing up step
This is a very important part.The components we use are for exportation,to select high quality components is necessary.
For example, all aspects of protector, capacitance have strict standard.To comply with VDE,TUV certification,produce according to the customer's requirement.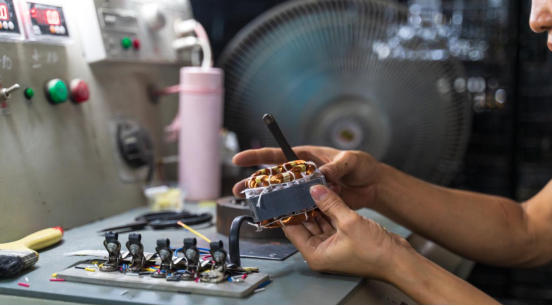 Inspection of semi-finished products
With this semi-finished stator,we test with high voltage and low voltage to see if it can start normally,whether it is cutting out.
The other thing is whether components have errors.
The voltage of capacitor,and input voltage of motor are also displayed on the inspection table.
The performance of the motor, whether it is powered on, etc., can be seen by the data of the inspection table.
To prove that our motor is ok up to this point.The criteria for qualified or not are checked at this step.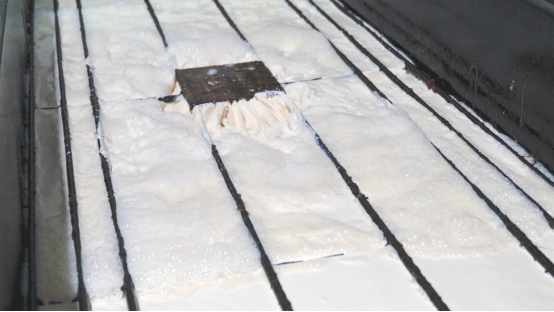 Soak the environmental standard water-based paint
The function of soaking paint is to insulate and solidify rust prevention.
It plays a very good role in the protection of the whole motor structure.Inside the pond is the water-based environmental paint.
After soaking, dry it in oven.Basically the stator is formed and solidified after it's dried.When it's stable, we take it out and move on to the next step.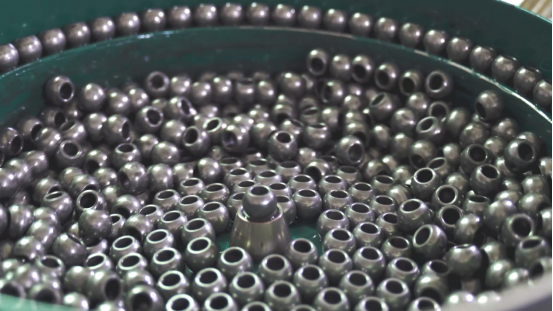 Motor cover making
We adopt high-temperature resistance bearing and lubricating oil.
To fix the bearing into the motor cover with pressing machine.
Rotor processing
The rotors are one by one,By measuring the shaft inside the fan,After centering the fan blade,aligning it with the shaft,and further processing by this machine,it is formed as a rotor with a well-tuned shaft.
And then move to the lathe processing,that can see if the rotor material is acceptable,such as the composition of aluminum.
Then apply a layer of anti-rust oil,keep it from rusting.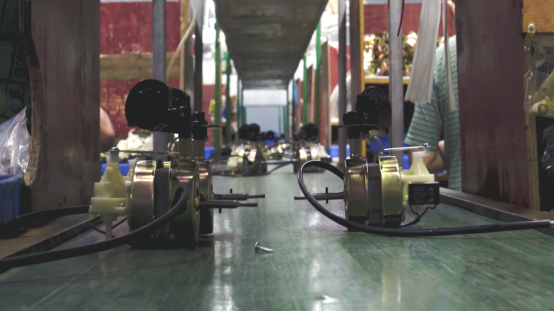 Assembly part
We got the semi-finished stator,housing,rotor and gear box.Assembled by the worker, it becomes a complete motor.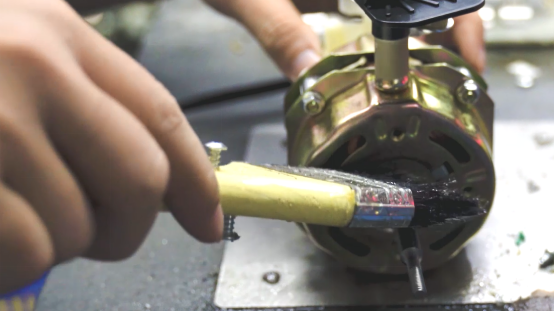 Inspection
To do inspection of our motor to check if it can rotate smoothly, whether the voltage and power are stable.
And coat the shaft with anti-rust oil. It will be more lubricated and run better and more smoothly.
Independent production——Grill factory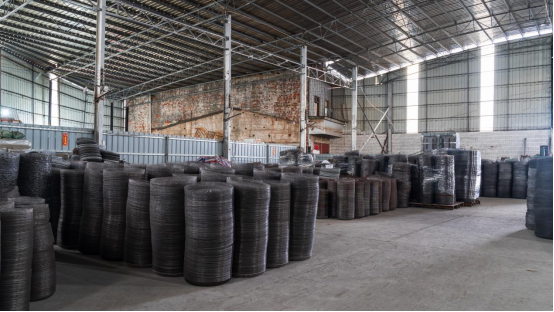 Shining Electrical hardware workshop for grill.
The total area is up to 2,000 square meters.
There are about 40 workers, and more than 40 equipment.The daily production capacity can reach 20,000 pieces,that's equal to 10,000 sets of grills.
Grill workshop video:https://youtu.be/0qacOkyV-dE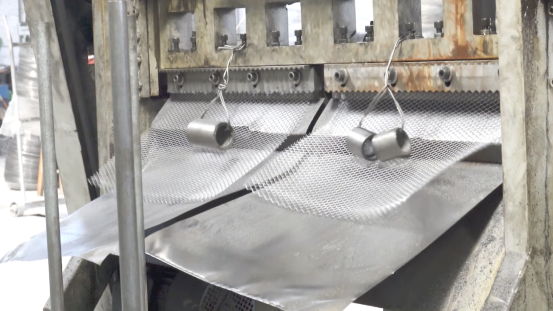 Stretching of the steel
Cold-rolled sheets are the raw material for the grill production.
The steel is stretched by automatic machine to form the grill.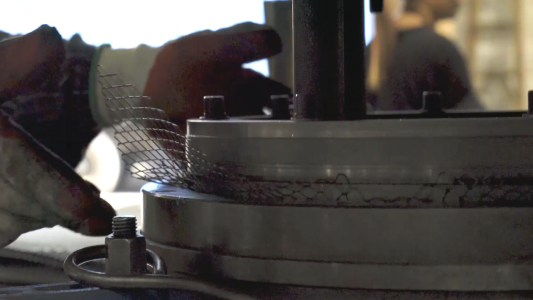 The oil forming
Through different molds different specifications of grill can be made.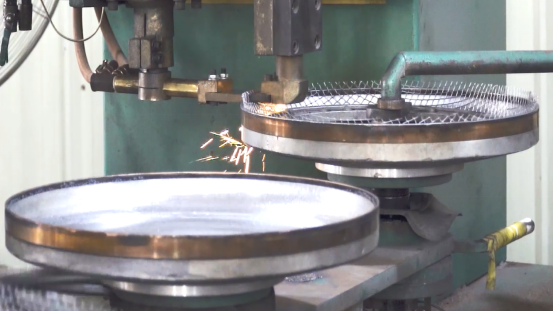 Outer ring automatic welding
The outer ring of grill is made of iron strip, which reformed by an advanced automatic device.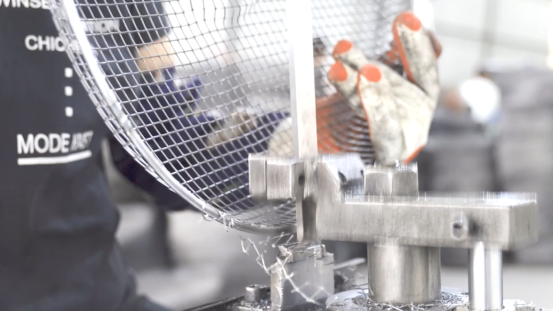 Edge polishing
The head and the edge of the grills are polished smoothly, so the client doesn't cut their hand when they touch the grill.
Semi-finished product
To punch the buckle onto the grill side, then a semi-finished grill is made.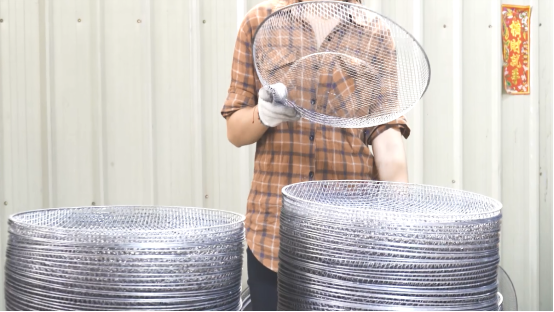 Quality inspection
Each grill is inspected by personnel, if there is deformation, unqualified defective products, they will be taken out.
We ensure that the the quality can be guaranteed.
Independent production
——
Pole factory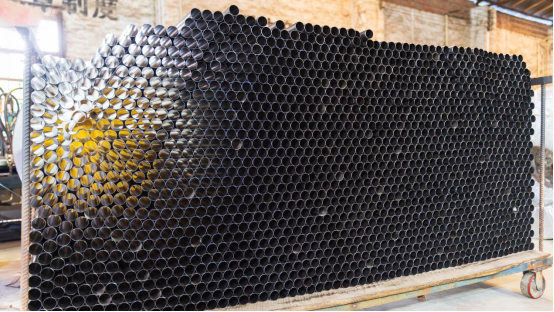 Shining Electrical pole factory is for pole production, measure of area 1,500m², more than 30 workers and more than 30 machines.
All machines are full-automatic.Daily output is 30,000pcs poles.
Pole factory video:https://youtu.be/M0khyh2KjsI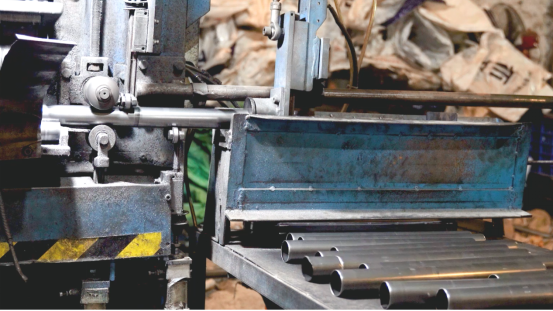 Automated production
The raw poles will be cut into different length by the automatic machines, and finally formed by this machine.
Independent production
——
Spray paint factory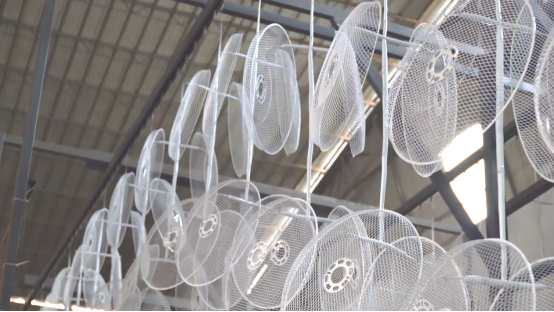 Shining Electrical painting production line, specially used for spraying fan guard and pole.It covers an area of 4,000 square meters and about 30 employees.
Daily output fan guards and poles 30,000 sets for each.
Spray painting factory video:https://youtu.be/qtfkasqDRwM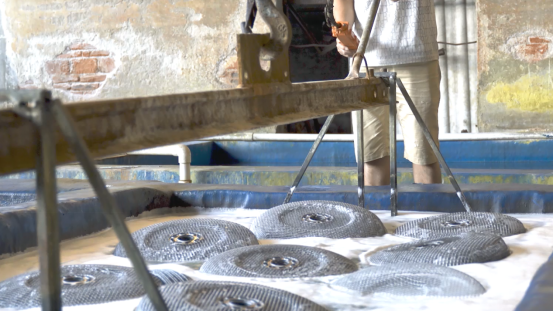 Pickling
The function of pickling is to remove rust and oil.After pickling, rinse the sour water with clean water.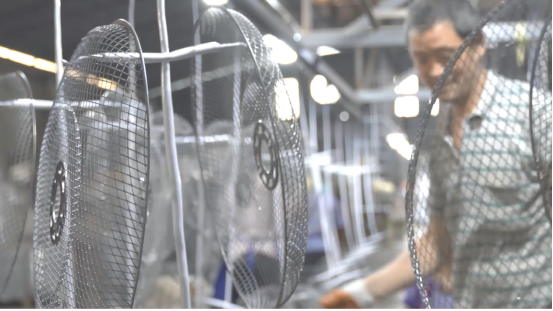 Spraying and drying
Hook the products on spraying line,transfer into drying oven,then it goes through spraying room.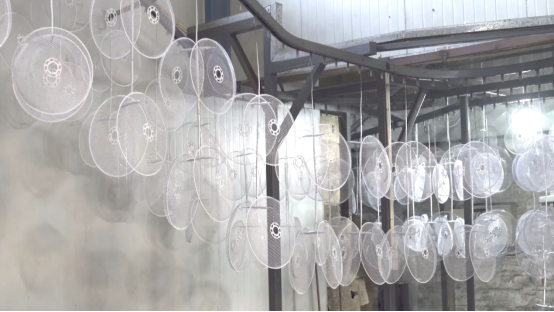 Re drying
Coat powder again.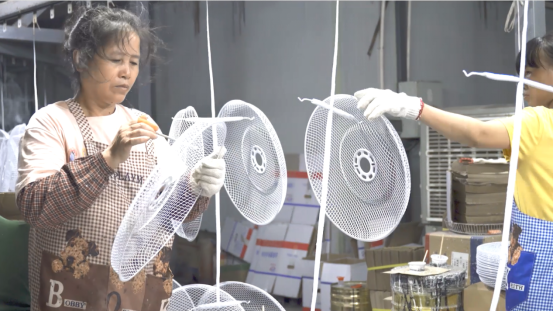 Replenishes colors completely
Hanging part of the hook is not colored.
The workers will hold a pen inspects and replenishes colors completely at this time.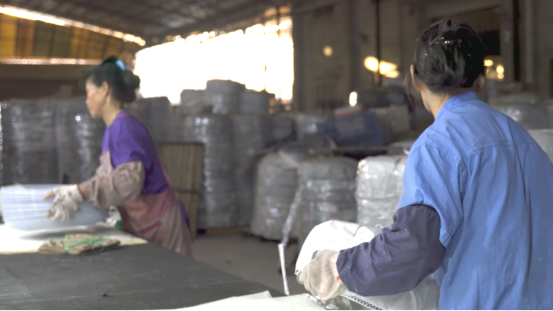 Counting the finished product
the employees will make counting and pack.
Assembly to shipment
Our production base is located in Nanhai, Foshan city, Guangdong province.
With beautiful scenery, outstanding people, concentrated around the talent of the country.
The total area of our factory is about 20,000 square meters.that's the size of three football fields.
More than two hundred workers are on standby.
At full capacity, we have more than 360 employees.After assembly in the factory, sampling inspection will be carried out, and finally the container will be loaded.
The customer provides SO, and there will be relevant information in it.Now, after loading,we check the information again by taking pictures to see if there are any errors.
To confirm that the goods we loaded are for the right customer.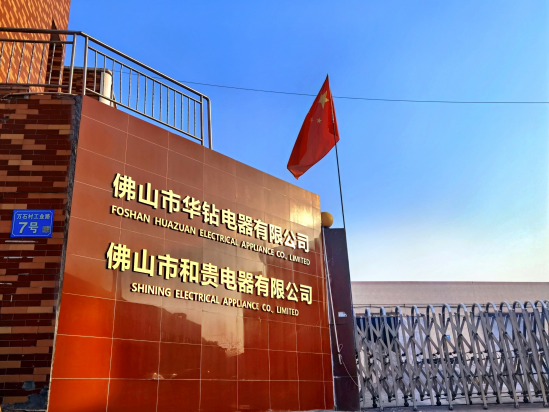 Conclusion
In the past seven years we engaged in fan exportation, We think we are not only making a simple fan,we are get to know this world and different culture by selling fans.
In the fierce market competition, our factory is still willing to invest so much manpower and material resources to improve such a simple product.
In fact, what is it for?Because the fan product is just a bridge, to bring us together.
We are a professional manufacturer of spare parts and a mature exporter of finished fans.
Spare parts dominated by its own brand "WINSTEP", Shining Electrical offers consultancy and customised services for the production of core components, equipment acquisition, tooling development and staff training
We have professional production and tooling teams, and extensive experience in the export of spare parts.
As a supplier and a manufacturer, win-win is our common goal. This is the meaning of our existence.
Shining might be not a best team, but we are definitely the youngest, the most energetic and the most potential team.
We have enough confidence to help our customers win the market.In the end, I would like to thank you very much for spending your time to read our article,and get to understand our factory.
I hope one day you can come to China and visit our factory.
Let's get to know each other better.Then we can create an ideal selling performance and win the recognition of the market.
Detailed video:https://youtu.be/YIpZj37_GrY